Marketing is one of the key elements of online success. If you do not market your products intelligently and aggressively, then you won't get any customers. And you won't make any sales. 
Marketing is actually quite straightforward once you understand some of the key components and get the fundamentals correct. Because the online world changes so rapidly, you can't really get trained for marketing in a typical college course.
It's simply too fast-paced with many changing variables. Which is why you need to utilize some of the online marketing resources designed specifically to assist online entrepreneurs to further their marketing goals. But first, let's take a peek at why marketing is so important for dropshippers.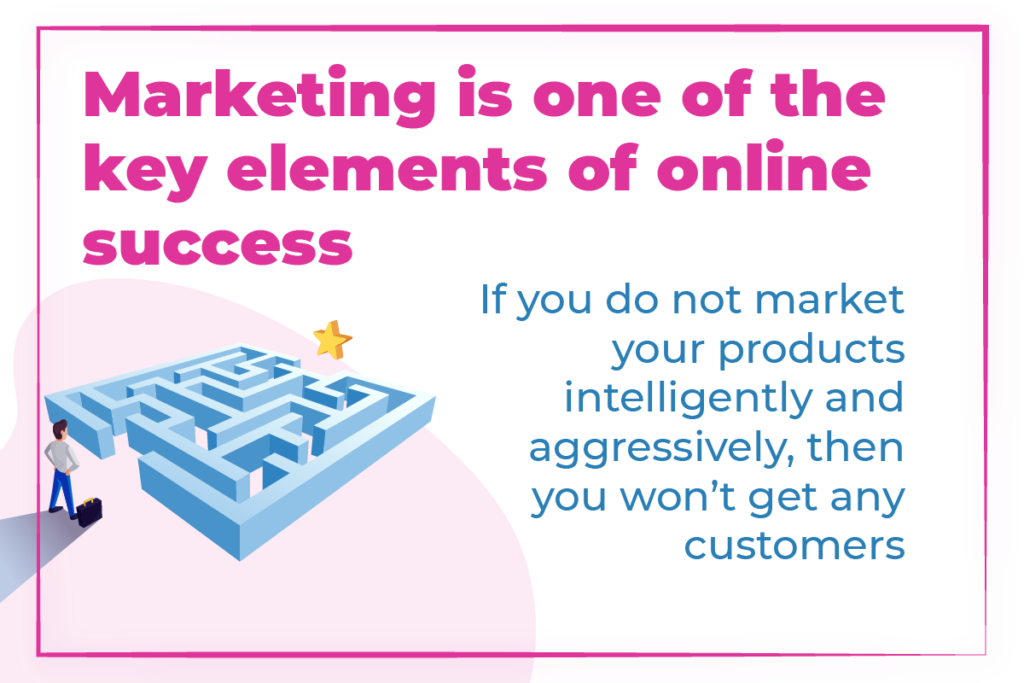 Why You MUST Learn Marketing for Successful Dropshipping
The online world runs on the successful marketing of products. For this, you need to know:
Your target market.

How to optimize conversions for your target market.

Core statistics and insights on consumer spending habits.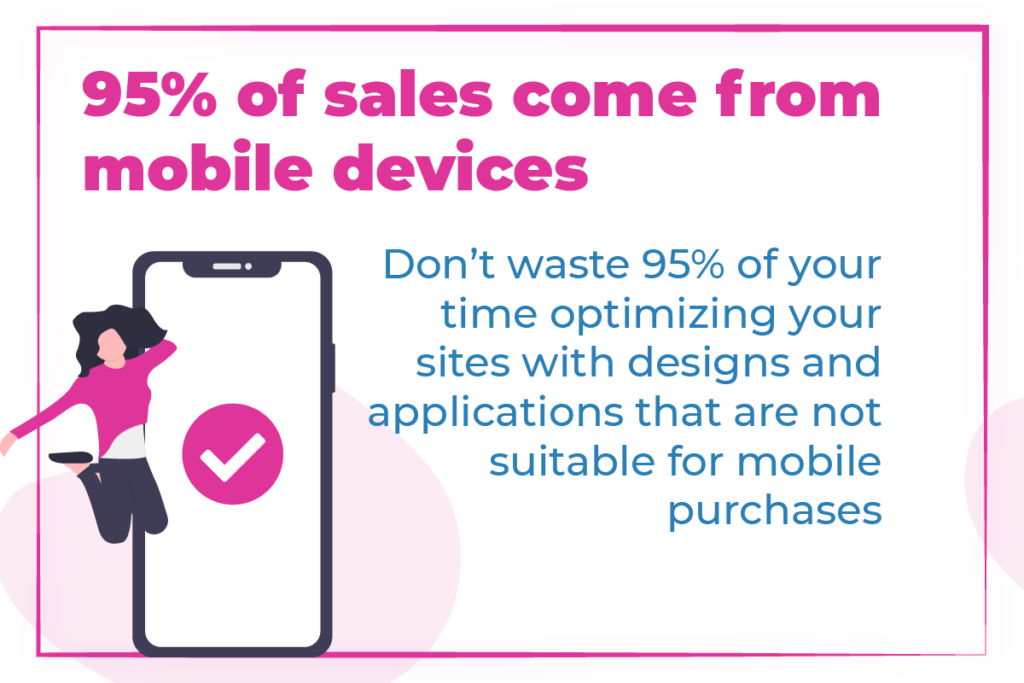 Obviously, there are many subcategories within the second option. But if you don't know how to optimize conversions, the simple fact is that you won't be able to sell products. You might get visitors, but you won't make sales due to a lack of marketing aggression, which is a common phenomenon. 
Lack of key information can also be highly detrimental. For instance, few dropshippers are aware that 95% of sales come from mobile devices. And they waste 95% of their time optimizing their sites with designs and applications that are not suitable for mobile purchases. It's these kinds of essential insights that make marketing a pre-requisite to dropshipping success. 
Thankfully, there are tonnes of places you can visit to learn how to accurately market your goods and services. Most of them are 100% free or are low cost. The best marketing resources for dropshipping are described below. 
#1 – Facebook Blueprint
Facebook Blueprint is a series of free online courses designed to help marketers to get their products out there. With over 2.5 Billion people using Facebook each month, it's a market that cannot be ignored. Facebook Blueprint offers a number of basic and advanced courses. The fundamental courses include:
The Essential Guide To Facebook Ads.

How To Create A Facebook Page To Grow Your Business.

The Essential Guide To Facebook Page Posts.

Growing Your Business With Instagram – What You Need To Know.

How To Advertise On Instagram.

How To Create An Ad On Facebook.

The Power Of Commerce On Facebook And Instagram.

Get Started With Commerce Manager.

Manage Inventory With Catalogs.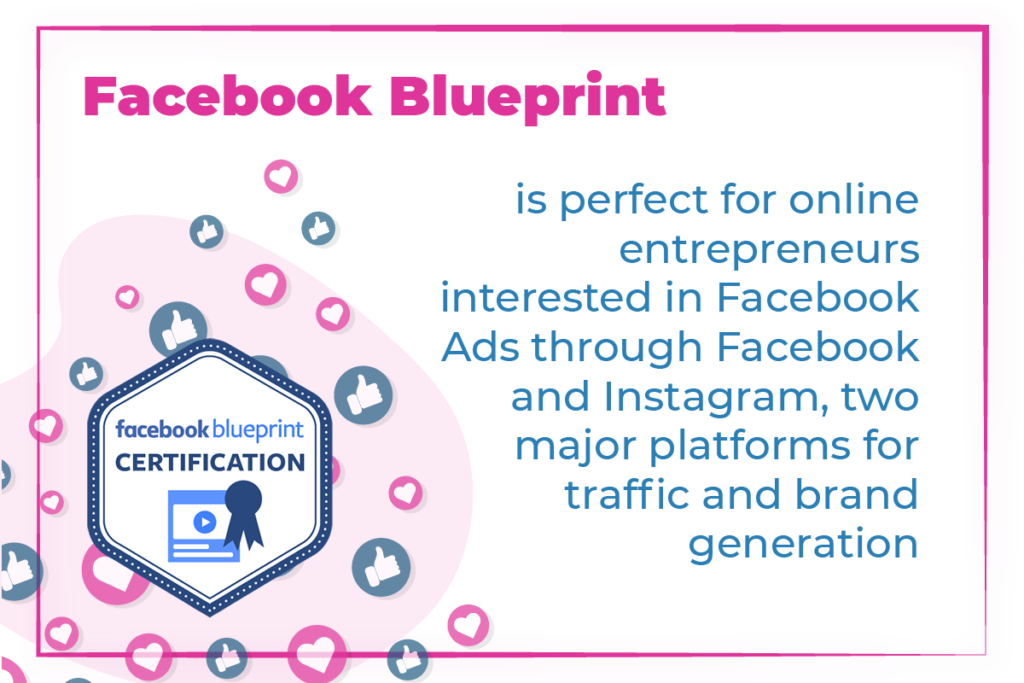 These are the basic courses, and there are many, many more advanced modules listed on the Facebook Blueprint page. The advanced learning modules are divided into categories such as 'distribute and monetize content', 'measure ad performance', 'increase online sales', 'generate leads, 'build awareness', and much more. Most of the modules are below 25 minutes in length, though there are a lot of them. 
The modules themselves are classified as either beginner, intermediate, or advanced. In this way, you have the benefit of being able to choose exactly what you are looking for. If you are interested in digital marketing, then you could get become a Facebook Blueprint Certified Professional. Facebook Blueprint currently offers 8 professional certifications. 
This could definitely help your online career and increase your sales. There are very few formal certifications for digital marketers, as it is not something you can really study for at the university level (the material could quickly become outdated).  
Facebook Blueprint is perfect for online entrepreneurs interested in Facebook Ads through Facebook and Instagram, two major platforms for traffic and brand generation. If you are interested in Facebook Ads, then this is obviously the ideal resource, created by the same company.
#2 – Google Digital Garage
Google Digital Garage offers over 134 courses, some of which are certified. Obviously many of these courses will be more generic in comparison to Facebook Blueprint, which deals only with Facebook Advertising. Google Digital Garage courses will often veer outside of strict marketing into cybersecurity, artificial intelligence, leadership, big data, programming, and other areas.  
With Facebook Blueprint, the individual modules are each about 25 minutes or less. With Google Digital Garage, you do an entire course that can range from 1 hour to 40 hours. Currently, Google is only offering 2 certifications, one paid and one free.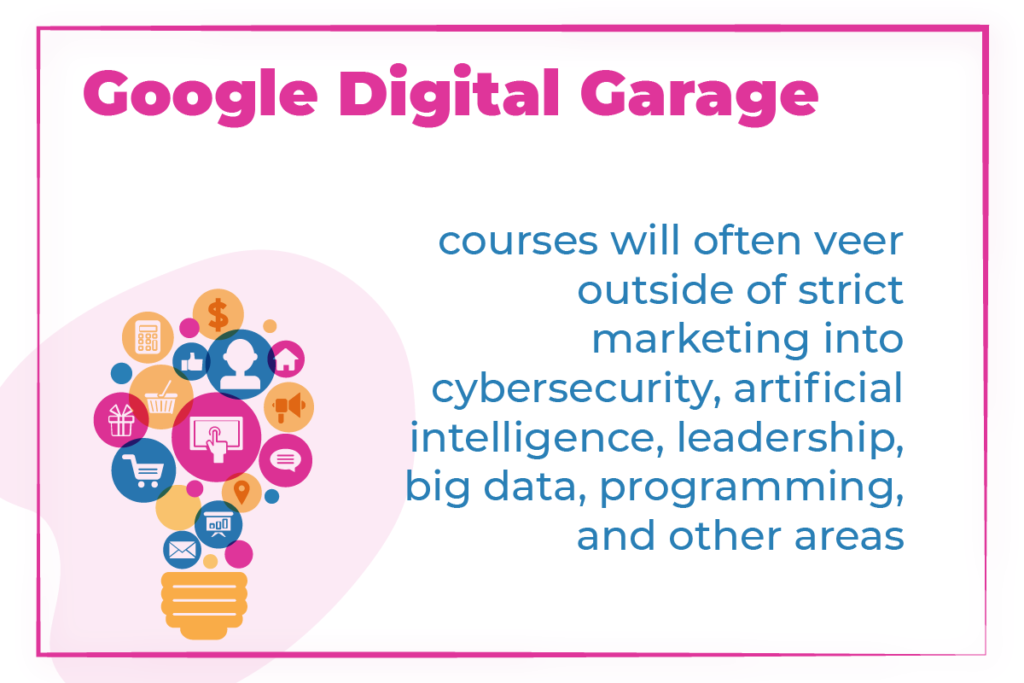 The free certification is known as 'Fundamentals of Digital Marketing' and has a 40-hour duration. The paid certification is known as 'Prepare for the G-Suite Certification Exam' and has a 9.5 hour duration. Sample courses (without certification) include:
Make Sure Customers Find You Online (4 Modules, 3 Hours Duration)

Marketing In A Digital World (4 Modules, 30 Hours Duration)

Promote A Business With Online Advertising (5 Modules, 3 Hours Duration)

How To Enhance And Protect Your Online Campaign (12 Modules, 7 Hours Duration)

Google Cloud Platform Fundamentals: Core Infrastructure (9 Modules, 11 Hours Duration).

Customer Segmentation And Prospecting (4 Modules, 10 Hours Duration)

Influencing People (4 Modules, 13 Hours Duration)

Search Engine Optimization Fundamentals (4 Modules, 13 Hours Duration)

Build A Sales Strategy For Your Freelance Business (3 Modules, 8 Hours Duration)
The courses offered by Google are free, but the courses offered by learning partners may or may not charge for the course. You can review each course to see if it's for you. On the left-hand side of the platform, you can easily navigate through the courses to see which ones are most appropriate. 
You can filter by course length, categories (data and tech, digital marketing, and career development), course difficulty, and course provider. Currently, there are 28 courses listed under 'digital marketing'. You can learn an individual module or an entire course. Courses are divided into beginner, intermediate, and advanced levels. 
#3 – Google Analytics Academy
While Google Digital Garage is more general in its offerings, Google Analytics Academy is for the more technically minded marketer. If you are trying to get a hold on your Ecommerce data analytics and rely on Google platforms, then this could be the resource for you. Analytics Academy is currently offering 6 free courses:
Google Analytics For Beginners

Advanced Google Analytics

Google Analytics For Power Users

Getting Started With Google Analytics 360

Introduction To Data Studio

Google Tag Manager Fundamentals
There are also a number of mini-courses offered on Youtube such as 'Getting Started with Google Analytics For Firebase', 'Getting Started With Google Tag Manager', 'Getting Started With Google Optimize', and 'More Google Analytics Playlists'.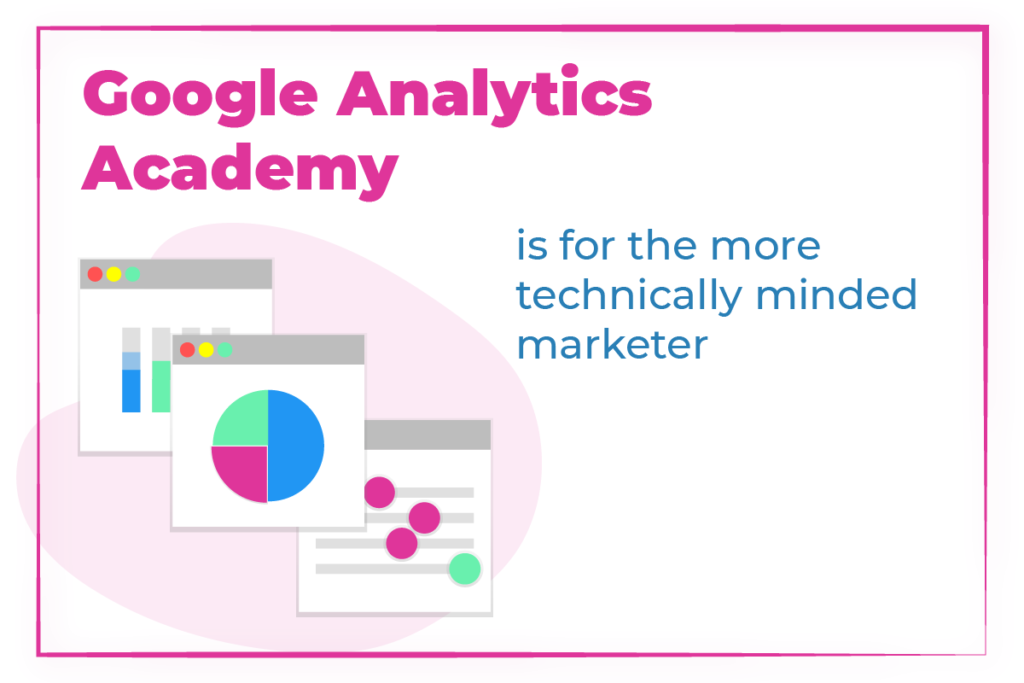 Google Analytics for Beginners and Advanced Google Analytics can be of enormous help to any marketer or site owner that wants to understand analytics and increase traffic and sales. Both of these courses are free and completing the two courses should take about 6 hours. These two courses can prepare you for the Google Analytics Individual Qualification (GAIQ) exam. This is also free, but you get a certification upon completion. 
If you are looking to learn about Google Analytics, then this is the perfect place. You can use such analytics to increase your site traffic and optimize conversions. The advanced course will educate you on complex marketing analysis and data collection and processing. The focus is mostly on ecommerce topics and the courses are suitable for beginners, intermediates, and advanced users. For more general digital marketing courses, look towards Google Digital Garage and other resources.  
#4 – Hubspot Academy
Hubspot is largely recognized as the king of inbound marketing. They offer a variety of certifications and marketing courses including email marketing, content marketing, and ecommerce marketing. In fact, they actually offer courses on all aspects of marketing – paid advertising, artificial intelligence in marketing, business blogging, Facebook marketing, search engine optimization, growing your Twitter audience, etc. 
Hubspot Academy offers more courses than any other online provider, and covers more niches. Certification courses include:
Social Media Marketing Certification Course (9 Lessons, 4 Hours Duration)

Inbound (7 Lessons, 2 Hours Duration)

Inbound Marketing (10 Lessons, 4 Hours Duration)

Content Marketing  (14 Lessons, 6 Hours Duration)

Inbound Sales (5 Lessons, 2 Hours Duration)

Email Marketing (11 Lessons, 3 Hours Duration)
Other non-certified courses include the 'SEO Training Course', 'Content Strategy Course', 'YouTube Marketing Course', and 'Ads Training – Fundamentals of Digital Advertising Course'. Like most other online academies, you can filter for the course you want by category (marketing, sales, service, web design, web development, data privacy), difficulty level, and duration.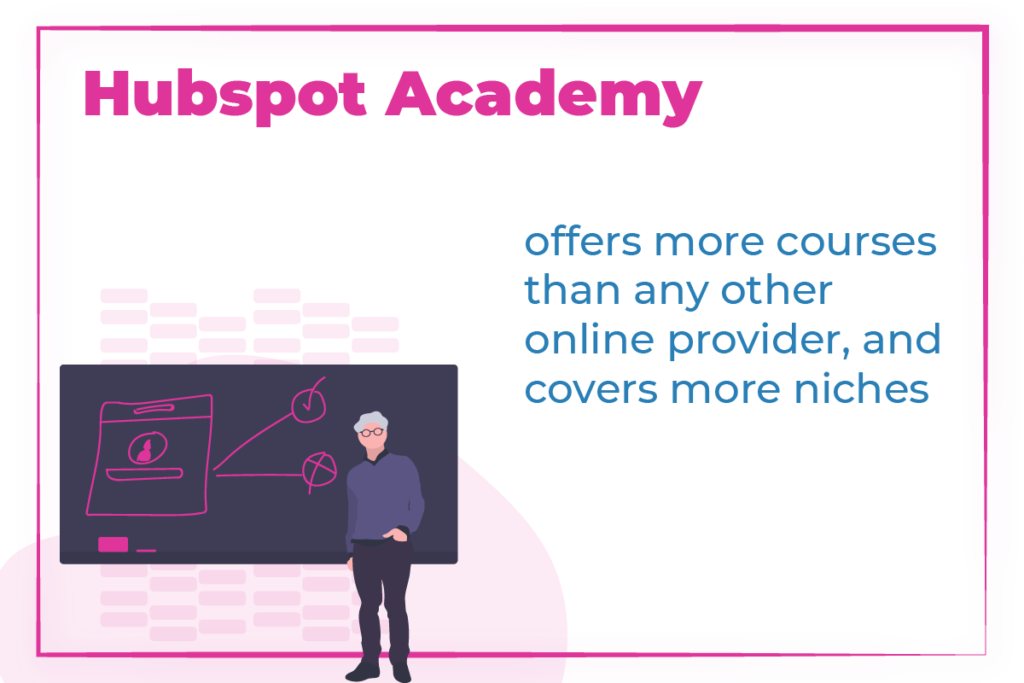 Hubspot also offers courses that are involved with its own offerings as an inbound marketing tool. Nearly all of its courses are completely free, and Hubspot is probably the best place to learn marketing. It offers the biggest variety of free courses and will have whatever you are looking for (unless you are looking for a very advanced or specific course).
If you find yourself unsure about a particular area, such as email marketing, content marketing, or social media marketing, then Hubspot Academy is the perfect resource. To run a successful online campaign, you need to know all of the different areas in detail. It will ultimately help you to grow your business, generate more leads, and make more sales.  
You can also get a certificate, if you are engaged or interested in the freelance or consultancy business. Most of the courses are not overly difficult, but look very good on a LinkedIn profile. 
#5 – Hootsuite Academy
Hootsuite is a social media management tool that allows for automated posting, awareness generation, and data analytics. It is one of the most popular social media management tools available for online entrepreneurs who are active on multiple social platforms. 
Unlike Hubspot, HootSuite Academy is very direct and focused in its offerings. It is laser targeted for social media marketing and does not venture into other marketing industries such as  content generation or email marketing. Aside from the free beginner course offered to learn about the Hootsuite software, all of the courses are costly and certified. They include:
Hootsuite Platform Certification ($99)

Social Marketing Certification ($199)

Advanced Social Advertising Certification ($249)

Social Media ROI and Value Analysis ($249)

Social Selling Certification ($299)

Advanced Social Media Strategy ($999)

Foundations of Social Advocacy Certification ($299)

Social Selling for Financial Services ($299)

Social For Healthcare Certification for Mayo ($400)
For all of these exams, there are multiple-choice questions (typically 50) that need to be answered within an hour or so. You can take the exams as many times as you want. The advanced social media strategy course is for those who really want to take their knowledge to the next level.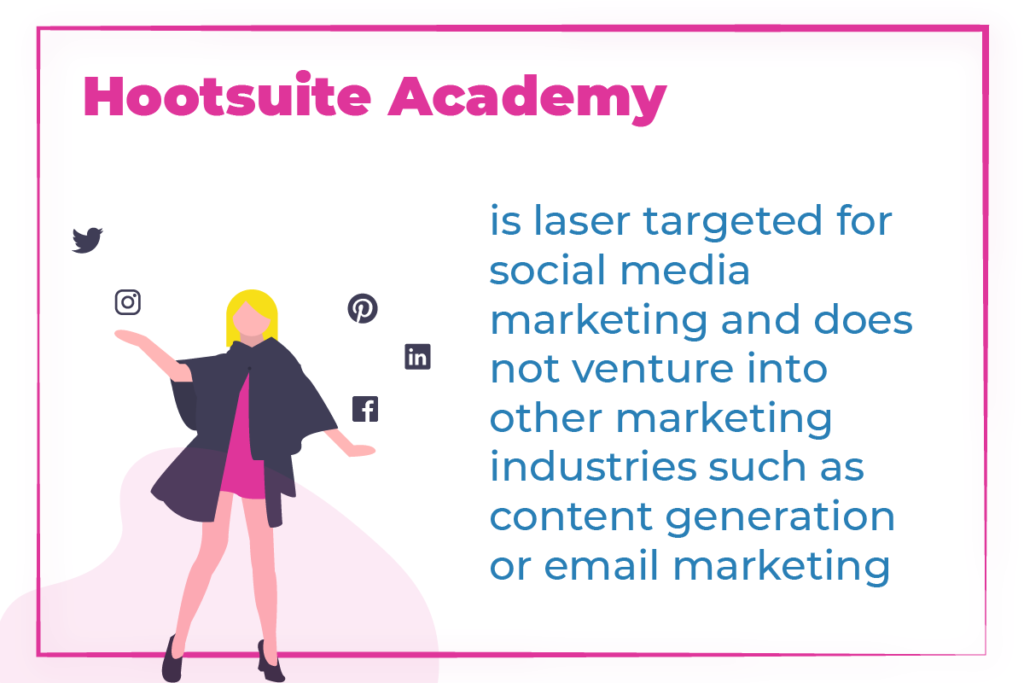 There are very few comparable certifications out there, so for people looking to get certified in social media, this is one of the best platforms. It can also help you as an ecommerce marketer on your social media campaigns. Even learning a basic course can really serve to increase your awareness of what works and what is surplus. 
Aside from the certified course offerings, Hootsuite offers tonnes of resources, case studies, and whitepapers on its site on the topic of social media trends. For social media optimization and management, they are hard to beat. 
#6 – Wordstream PPC University
In terms of Pay Per Click ('PPC') paid advertising, Wordsteam PPC University is the place to learn. PPC can be tricky to get right, and time-consuming. There is also a lot of conflicting information on the web. With this in mind, it makes perfect sense to learn from the best online university!
All of the courses at PPC university are completely free. The 3 main courses are PPC 101, PPC 102, and Advanced PPC. If you complete all of these courses, then you will certainly be ahead of the PPC curve. Topics covered in the Advanced PPC course include:
Remarketing

Dynamic Keyword Insertion

AdWords Mobile

Call Tracking

Geotargeting & Local PPC

Ad Scheduling (Dayparting)

PPC for Lead Generation

PPC for B2B Companies

7 Best Practices for Google's new Expanded Text Ads

Google Expanded Text Ads: 10 Things You Need To Know

How to Create Expanded Text Ads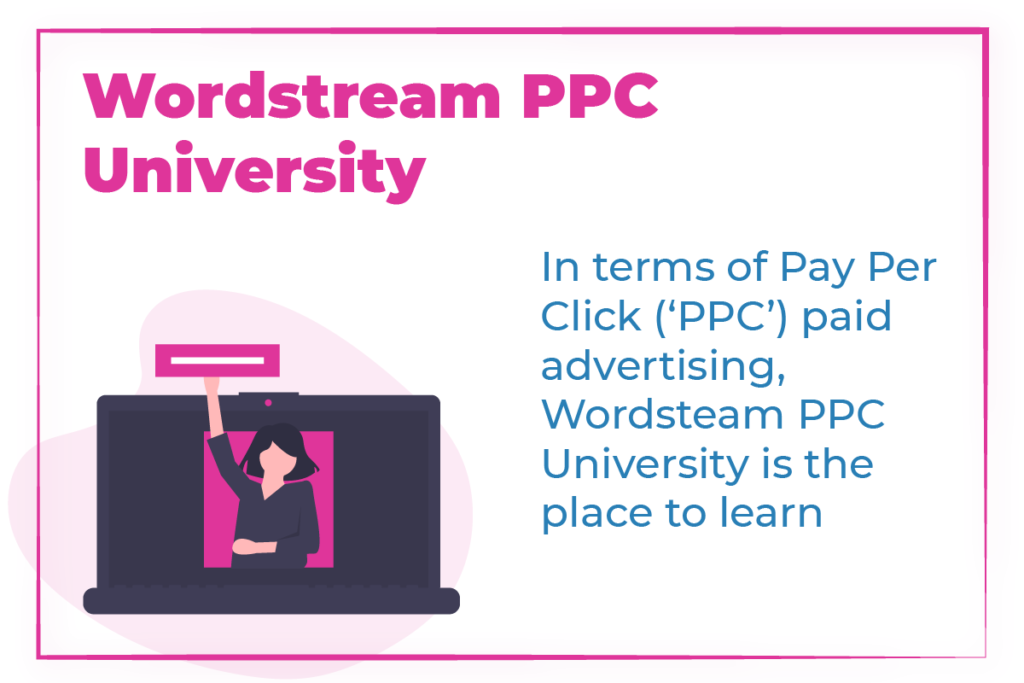 If this is too much right now, PPC 101 can help you to understand the essential concepts and PPC102 can take this a step further. In addition, PPC university offers whitepapers and webinars for more guidance. Wordsteam claims to be superior even to Google Ads when it comes to PPC. The PPC University states on its website that:
Many marketers turn to the Google Ads Help Center when, well, they need Google Ads help. But the Google Ads Help Center contains an enormous amount of information and can be difficult to navigate. If you're just getting started with PPC training or need a little help with Google Ads, PPC U is for you: a contained resource with a clear beginning and end. It's like going to school for a PPC education — you'll have guidance the whole way through from industry experts.
There is little doubt that PPC University is one of the most comprehensive authorities regarding PPC. But there are some drawbacks. The 'Course' is essentially just a list of Wordstream articles. As informative as these articles are, some of them are gigantic blog posts over 5,000 words (though this length is only found in PPC 102 and the Advanced PPC course). 
It does not seem as user-friendly, intuitive, or learning orientated compared to some of the other online universities. But if you are serious about PPC, there is no better place. 
#7 – The eEmarketing Institute
The eMarketing Institute offers a number of certifications and courses, as well as eBooks. According to Alexa rankings, the eMarketing Institute is in the top 1% of global site rankings.  All of its offerings are free and its courses include:
eCommerce Certification

Blogging Certification

Affiliate Marketing Certification

Content Marketing Certification

Email Marketing Certification

Online Marketing Fundamentals

SEO Certification

Social Media Marketing

Search Engine Marketing

Web Analytics Certification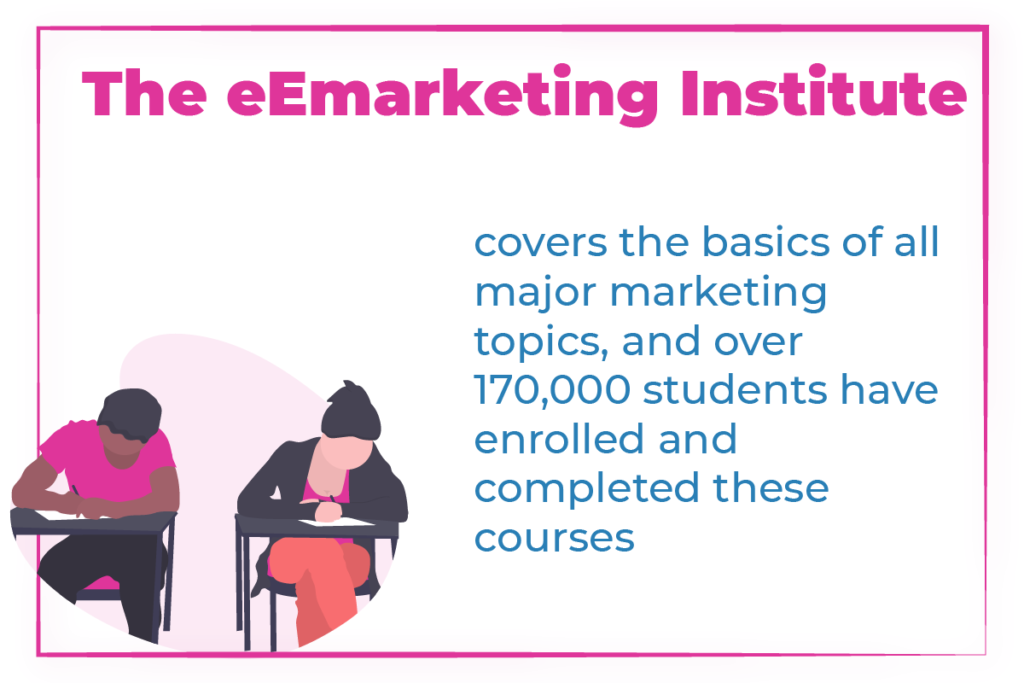 As you can see from the above, the eMarketing Institute covers the basics of all major marketing topics, and over 170,000 students have enrolled and completed these courses. The course itself is a 150 page eBook (or thereabouts) to be studied.
The minimum score to pass each exam 50% and the time for each test is a maximum of one hour. Tests can be retaken as many times as necessary for completion. There are 50 questions in each exam, so you need to answer 25 correctly in order to pass. 
The standardized layout of the eMarketing Institute might be very appealing. Realistically, you will only need to use one or two courses as there is some overlap. You might want to look at eCommerce certification along with email marketing, and you can combine certain courses that work well for what it is that you want to achieve. 
All courses are at the beginner level, which is great for starting off. But if you want to specialize you may need to look elsewhere. The textbook layout might not be suitable for certain individuals who prefer to learn via video as opposed to pdfs/eBooks. 
It's not really broken up into specific modules like other academies – you are just given an eBook to learn, which is not the 'friendliest' of mechanisms, but at least it is straightforward and simple. 
#8 – uDemy
uDemy is a superb resource not only for marketing but for practically all topics you can imagine. It is an online course store where you can learn from the experts. The cost and quality of uDemy courses can vary greatly so you have to be a little selective. But you can always go with the best sellers for safety, instead of risking an entirely new course. 
The best selling digital marketing course on uDemy is The Complete Digital Marketing Course – 12 courses in 1. This has nearly 500,000 enrolled students and over 100,000 ratings. It's hard to get safer than this, and it costs less than $10. The course description includes: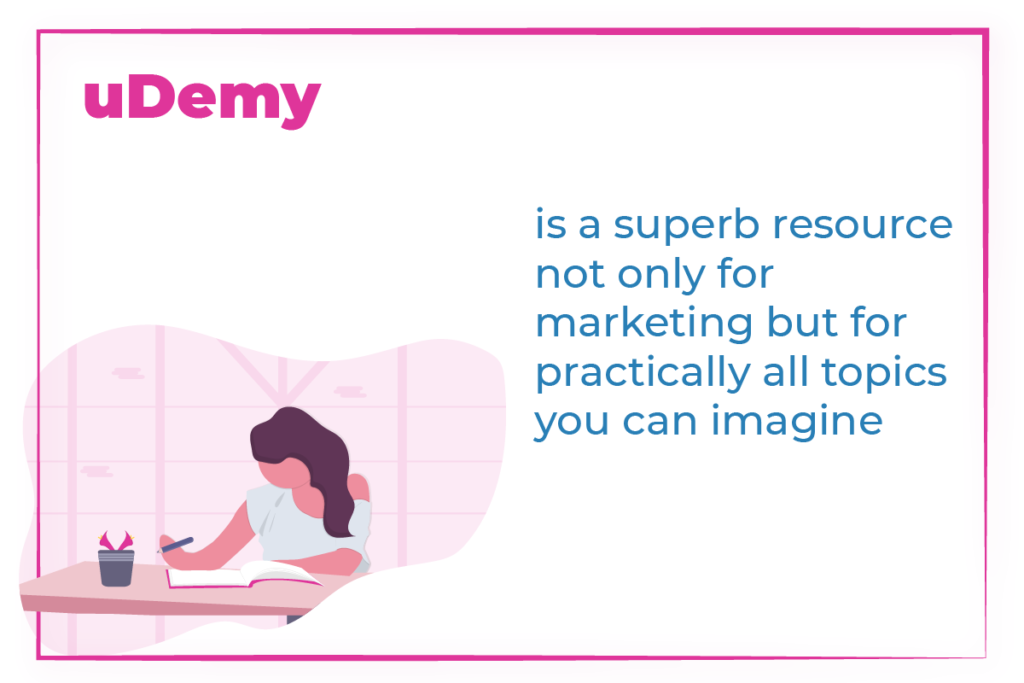 Market Research – Ask 3 basic questions to validate your business idea.

WordPress – Build a world-class website in 1 hour without any coding.

Email Marketing – Build a mailing list of 1000 people in 30 days from scratch.

Copywriting – Write sales pages to increase conversions. 

Search Engine Optimisation – Get free traffic to your website with SEO.

YouTube Marketing – Drive traffic & sales with straightforward 'how-to' videos.

Social Media Marketing – Instagram, Facebook, Twitter, Pinterest & Quora.

Linkedin Marketing – Go viral on Linkedin and 400x your connections.

App Marketing – Discover 43 Ways To Promote Your App.

Google Adwords – Avoid common mistakes and set up profitable campaigns first time. 

Facebook Ads – Make money with Facebook Ads without spending a fortune.

Google Analytics – Improve your marketing with Google Analytics data.
As comprehensive as this course might be, its probably a better idea to get a little more focused. The base covered here is simply too broad for many online entrepreneurs. But if you really want to sink your teeth into online marketing, then this course is a fantastic resource for you. For less than $10, you are getting 38 articles and 24 hours of video content. 
Otherwise, there are many more courses on uDemy. You can just search for the kind of marketing skill you are looking for, whether it is Linkedin marketing, email marketing, or paid advertising. 
#9 – SEMrush Academy
The SEMrush tool is arguably one of the most successful online marketing platforms ever created, winning multiple awards for innovations in the field of SEO and digital marketing. They have released a training center (SEMrush Academy) to connect further with their users, like most other online marketing providers. Like Hubspot, SemRush offers a variety of courses on PPC, SEO, content marketing, social media marketing, and affiliate marketing. 
With SEMrush, each course is taught by an industry expert which adds credibility to the material. All courses are free, though you have to register as an SEMrush user (like all academies). SEMrush academy offers certified courses in the areas of SEO, Content Marketing, PPC, Social Media Marketing, Affiliate Marketing, and Competitive Research.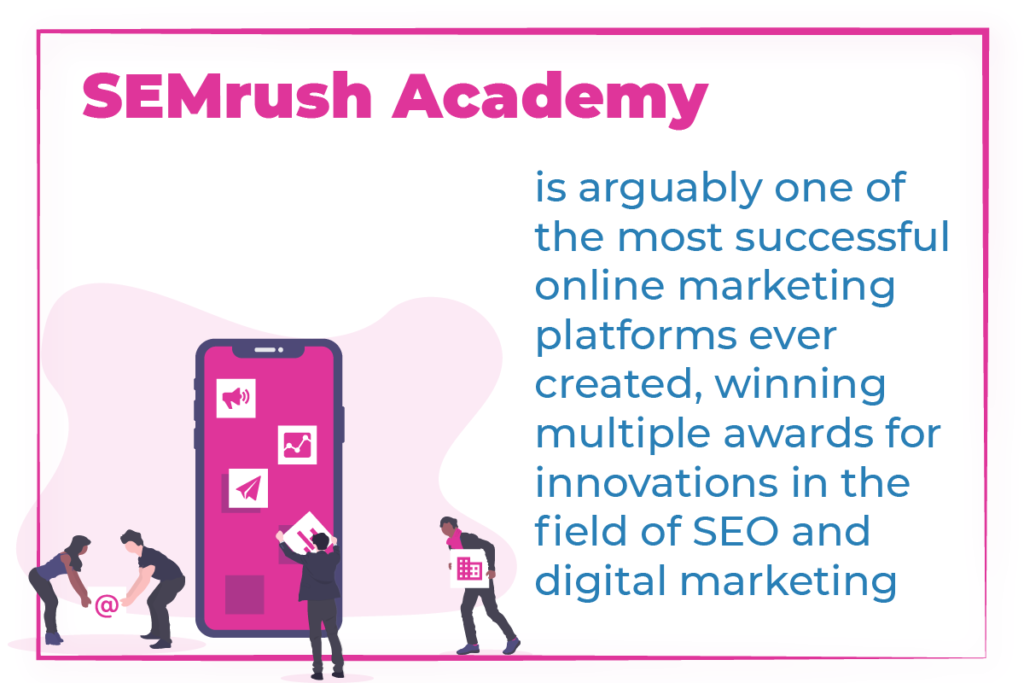 Most of its offerings are within SEO. Though it does have a couple of courses under social media marketing, PPC, and content marketing, these are quite basic. If you want to get serious about these areas beyond the fundamentals, you may have to look elsewhere. But for SEO, SEMrush academy is one of the best around. Certified courses on offer include:
SEMrush Content Marketing Toolkit Course (9 lessons, 4 hours Duration)

Content Marketing Fundamentals Course  (13 lessons, 2 hours Duration)

Role of Content Course (10 lessons, 1 Hour Duration)

PPC Fundamentals Course (36 lessons, 5 hours Duration)

SMM Fundamentals (27 lessons, 4 hours Duration)

SEMrush Site Audit Course (9 lessons, 1 Hour Duration)
If you are using SEMrush (a very powerful SEO and link analysis platform) then these courses are perfect. But otherwise, there are other academies that offer superior courses with more depth beyond the fundamentals. 
Most of the SEMrush exams are related to marketers using the SEMrush platform as opposed to learning in general. But it shines through because all courses are free, there are industry professionals running each course, and the SEO and competitor research courses are second to none.
Which One to Choose?
It's not all that difficult to select the right platform to learn what you need to know. Most of them are free and divided by topic, duration, and skill level. It just depends on what you are looking for:
Paid advertising on Facebook or Instagram – Facebook Blueprint

Web Analytics for an eCommerce site – Google Analytics Academy

Basics of Digital Marketing – Google Digital Garage 'Fundaments of Digital Marketing' (Certified)

General PPC Advertising – Wordstream PPC University

Inbound Marketing – Hubspot Academy

Social Media Marketing – Hootsuite Academy

All-around marketing content – Hubspot, SEMrush, The eMarketing Institute, or uDemy. 
If you want to learn a little piece of everything or random modules, then Hubspot Academy is likely the best choice. In fact, it's probably the most all-rounded online marketing academy, though aside from inbound marketing it is not particularly specialized. SEMRush also tends to cover quite a number of bases and is a well-rounded platform. 
There are also some excellent courses available on uDemy. But this can be a little more 'hit and miss' as there are various course creators with all kinds of content. Stay focused on your marketing campaign. If you try to be a jack of all trades, you will have very limited success. 
Keep in mind that most of the academies have very similar formats. The exams are multiple-choice questions that take less than an hour, and you can usually keep taking the exam until you get it. And remember that you are not taking the exam merely to get a shiny credential. 
You need to broaden your knowledge of the subject matter and consider how you can successfully apply it to your business. The days of empty credentials are well past. The days of applying your knowledge as soon as possible in a real-world scenario are here, right now. 
The Bottom Line
It's free to learn marketing. You just have to divert some time and attention to what kind of marketing skills you are looking to develop. 
If you want to accelerate your progress, then consider using the DashNex eCommerce platform. All of the excess tools and plugins are removed so you can focus on sales, speed, and inefficiency. You can make a steep learning curve very smooth just by picking the right platform. 
There is so much to learn within the field of marketing, that focusing on the most efficient aspects is often the shortest path to financial freedom. And this is exactly what Dashnex offers.